Description

Pistachio
The most popular nut in Iran and a great healthy snack with a mesmerizing taste.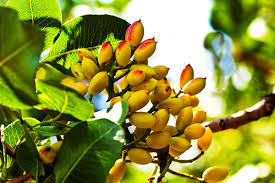 The pistachio tree is a relatively old plant and there are many speculations about the origin; mostly know Iran (internal area) as the original region that this tree has first grown. The historic evidence shows that the fruit was used in parts of Asia thousands of years before Christ.
Due to the hot and dry climate of Iran, which the plant shows a high compatibility, the crop has been one of the major agricultural products of Iran. However the tree grows in some other parts such as USA and Turkey too, the most popular type worldwide is the Iranian and Iran has the biggest market share. One of the many reasons of this popularity, is the high volume of nutrients in the Iranian type, aside from the better taste.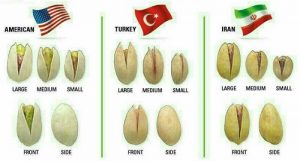 The pistachio tree, has a relatively high strength against the temperature differences (which is common in many parts of Iran), and shows great resistance against drought.
The fruit has a peel of yellow-red when becoming ripe and grows on branches in a cluster way. Inside the peel there is a hard shell protecting the edible kernel of pistachio.
The pistachio's kernel is a very nutrient nut, which can be a healthy source of protein, Fiber, Calcium and some minerals. It's also very rich in Vitamins such as B, K and E group. Every 100 grams of pistachio kernel is known to provide 562 calories on average. These, make the nut a great snack that can be easily served anywhere anytime!
Pistachio Usage
Since the kernel is not completely covered in the shell, it can be roasted and salted to enhance the taste compared to when eaten fresh. As the unique taste of this nut can improve many deserts, it's common to add the flavor to ice cream and some confections such as the Turkish lokum, Baklava, and cakes and biscuits.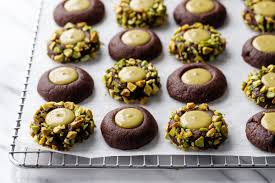 Different variations of Iranian Pistachio
There are 3 major categories as below, grouped based on the shape:
Fandoghi (Round Pistachio)
Gets the name because of its similarity to hazelnut (Fandogh) and can be found in all parts of Iran.
Kalleqouchi (Jumbo Pistachio)
The type is popular in Iran and has a huge production volume, which decreases the price compared to internationally popular types such as Akbari.
Akbari, Badami, Ahmadaghae (Long Pistachio)
Ahmadaghae: A very popular type around the world, mostly cultivated in Kerman province.
Akbari: The most well-known type of Iranian Pistachio also known as "Super Long"
Badami: Another type of long pistachios which is largely cultivated in Khorasan region.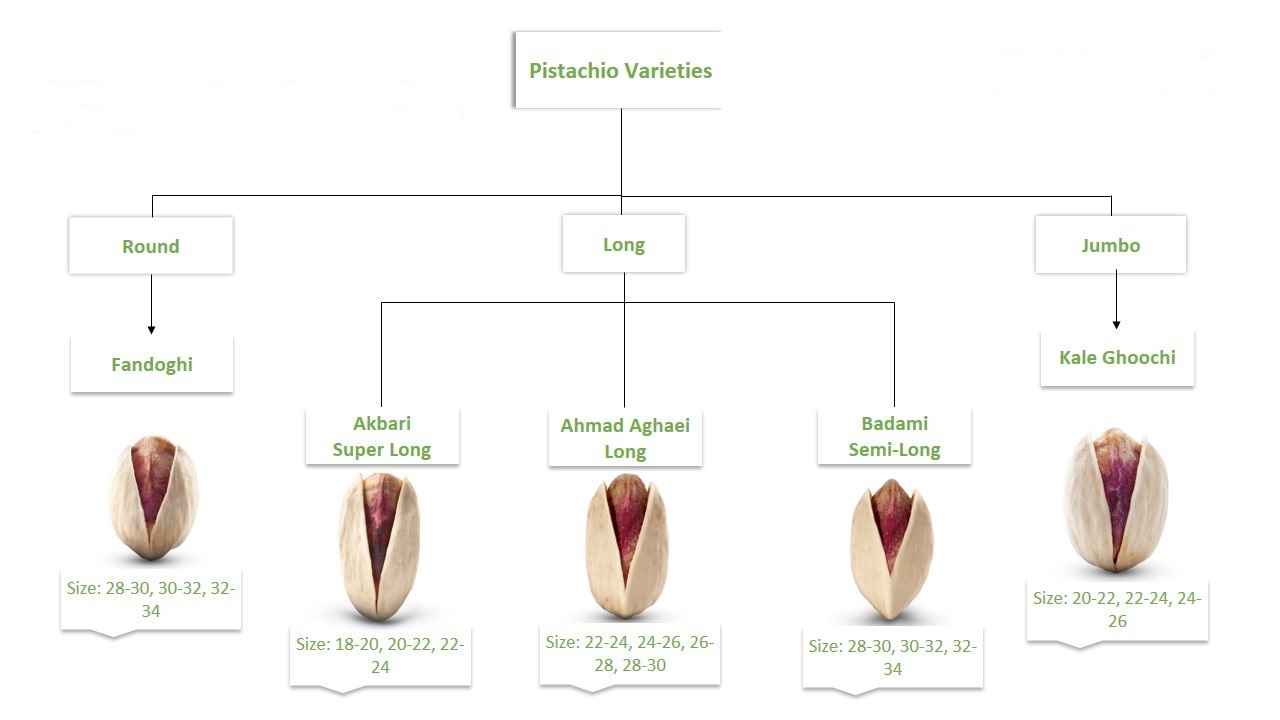 Toxicity precautions
Aflatoxin, a potent carcinogenic chemical which can be produced by some molds, is a frequent contamination in respect of pistachio cultivation. The mold contamination can be happen through pests, soil, and poor storage as well as poor harvesting. High levels of contamination, appears as a grey to black filament growth.
In order to avoid this contamination, there are certain measures to be taken while harvesting the crops and then storing them. An additional sorting as the final stage is carried out just to make sure everything is as it should be.
PRG trading ensures to deliver the pistachios with the minimum level of Aflatoxin in complete compliance by EU standards.
We are honored to be the supplier of high quality Iranian Pistachios, in all types and grades upon demand. Get in touch NOW for more info.